Point of sales,
Maison Rebatchi.
---
Find our fragrances and candles in our points of sale spread all over the world.
Boutique Maison
Rebatchi Paris
63 rue Lauriston
75116 Paris
-
Monday to Saturday,
from 10:30 am to 2pm & 3pm to 7:30pm

+33 (0)1 46 38 27 39
Located in the 16th arrondissement of Paris, the first Maison Rebatchi boutique is a chic and uncluttered space where Mohamed Rebatchi's Franco-Algerian origins are unveiled with blackened wood, white marble and gilded metal. The perfume bottles and candles are set on a central Tulip table with a white marble top and golden legs. On the walls, the shelves appear to be suspended, attached with thin black and golden brackets, alternating with mirrors, which bring depth and rhythm to the room. The central chandelier, composed of black angled pieces that hold test tubes, is a nod to the craftsmen perfumers who created the fragrances for Maison Rebatchi.
Designed by Giroir & Roul Architects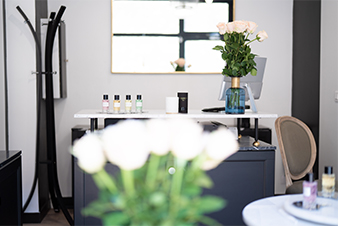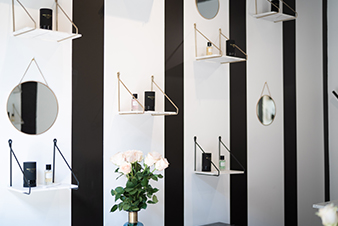 Dade County - Paris
3030 SW 8th St Miami, 75116 Paris
01 46 38 27 39
---
Retreat - Rotterdam
Van Oldenbarneveltstraat 123, 3012 GT Rotterdam

---
Blush & Brush - Maastricht
Kapoenstraat 11, 6211 KV Maastricht

---
Theodora Haute Parfumerie - Geneve
Grand Rue, 38, 1204 Geneve

---
Niche - Riga
Tērbatas iela 45, LV-1011 Riga

---